My name is Chloe and I started The Trendy Whippet in October 2016 after me and my partner got baby Ren at 8 weeks old. As we were heading into Autumn I noticed that she started to feel the cold. 
Whilst looking around the internet for a suitable coat and collar, I had the idea to start selling these items myself.
I had no idea about online selling, dog clothing, how to make dog clothes or anything!
I started off small and found a few suppliers and seamstresses that could help turn my ideas into a reality. I quickly realised that I wanted to design my own range and put my stamp on the Sighthound Clothing world!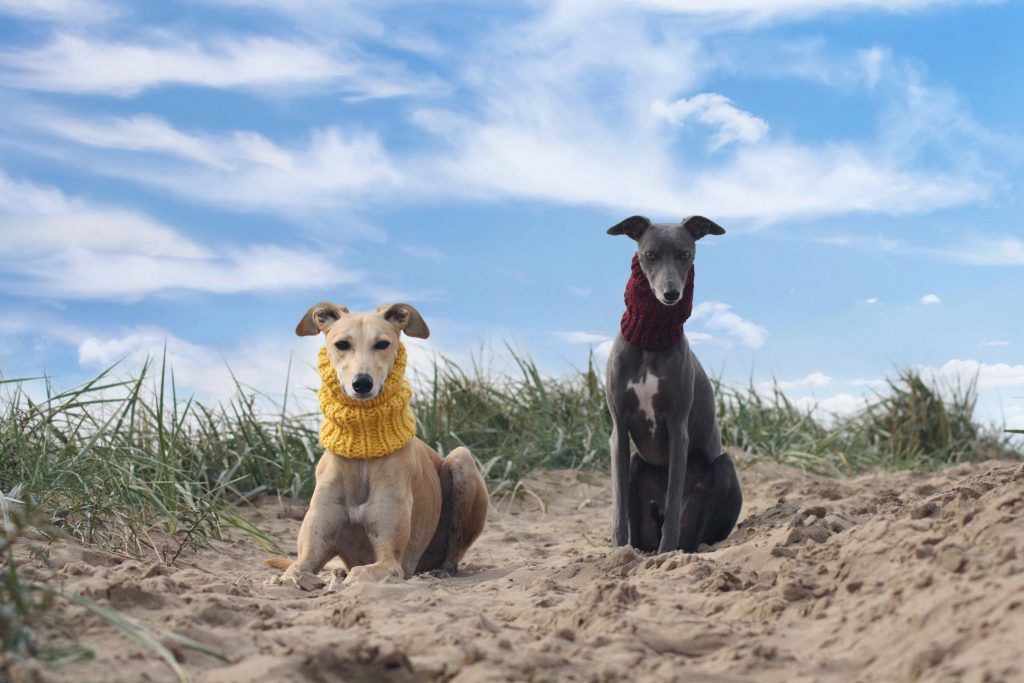 After we had Ren for about a year, we felt like we needed to add another hound to our pack as we were totally obsessed with them! 
This time we decided to rescue. And we fell in love with our beautiful short haired Saluki Lola who we welcomed into our home in 2017.
This is where I realised that Sighthounds really do come in all shapes and sizes, which meant I needed to knuckle down and properly design and create a larger range of sizes and shapes in my products. 
So, I found some new suppliers that I could give my own designs and ideas to and they could create my pieces exactly how I wanted. 
I started out with the basics, Waterproof Coats, Wide Leather Collars and some indoor Jumpers. I then started being more creative with my designs, and introduced the Onesies and Fluffy Jumpers! 
You all seemed to love the wider range and the support from everyone was amazing!
So we added more! Leather Leads to match the Collars, Martingale Collars and Harnesses. 
I then added a Knitwear range. We have 3 knitters who make each Jumper, Snood and Hat by hand. We then also decided to add a 'For Humans' range! Great for all the Sighthound lovers or as gifts. Scarves, Pyjama Sets, Jewellery. All designed uniquely by me. 
Next, I realised that even though my two girls were amazing at testing new designs, I couldn't have them as the only models and product testers. So I used my friends who have Whippets and Lurchers, I found some hound Instagram accounts, ranging from Whippets, Italian Greyhounds, Lurchers, Greyhounds, Salukis – You name it! 
By testing my sizes and products on all of these different hounds and being open to their feedback, meant I could perfect my sizing, make changes to features that didn't work so well, that before I may have not taken into consideration, and generally make my products the best they could be! So after all of this, my knowledge on measurements for each sized hound is very good! 
I am very picky when it comes to designs. Which is a good thing as that means the end results can be exactly how I imagined them.
Some designs feel easier to create than others. But I want to make sure that I am happy with the design and my products have been tested fully before releasing them. Otherwise I will keep working on them until they are exactly how I want them to be.
For example, me and my supplier have been working for nearly 3 years on creating a certain product, trying to make it perfect (hopefully it will be ready by the Autumn)!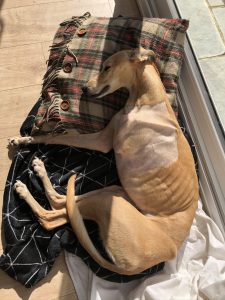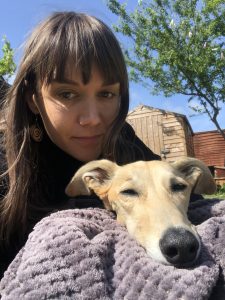 As some of you may know, we sadly found out that Lola had Osteosarcoma Bone Cancer in October 2019. Our lives were turned upside down. Our main focus was caring for her. She had her front leg amputated to get rid of the tumour, and did amazingly well on 3 legs.
I write this with tears in my eyes because, unfortunately in May 2020, her body decided it was time. As our lives came crashing down on us, we had to make the decision that we never wanted to make. Especially for a girl so young, she was only 4. 
We said goodbye and went through the most painful experience I have ever been through in my life. Saying goodbye to my best friend who totally changed our lives.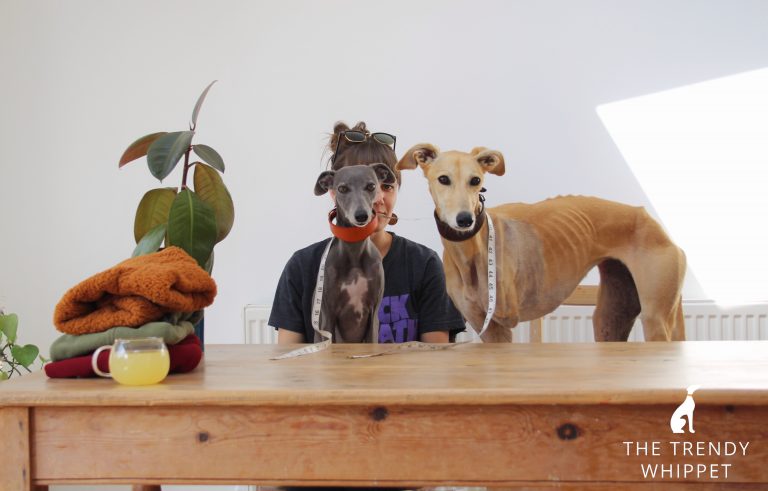 Even though we have grown massively as a business, it is still run by only me! 
I use the terms 'We' and 'Our', but the truth is that I answer all of your emails, I run the social media accounts, I design every single product, then photograph them all, and I deal with any problems or customer returns. I am happy to do this as I feel it keeps the business personal, which is important to me. 

The only thing that I do not do is make the items as we have a few different suppliers that are AMAZING at this.
And also, the orders got too much for me to handle on my own and I could no longer fit all of the stock in my house, so we have a warehouse where this is stored and they also have a few members of staff there who package and send out your orders. They are also AMAZING!
I absolutely LOVE what we have created here at The Trendy Whippet. And I am overwhelmed by the support from customers and also our following on social media. 
I have made some really good friends through the business or because of our mutual love of Sighthounds. Some of these friends I have never even met, but the connection you make with some people on social media really is amazing.
Me and Ren will continue to design and create products for you all to enjoy. 
We even have some new pieces coming in the Autumn! So watch this space!
Thank you to everyone that supports us. Thank you for reading this if you have made it all the way to the end! And I hope it has given you more of an insight into our business!