Measuring your hound can be hard. Especially if they are a wriggly puppy, a sleeping Whippet or a Greyhound that doesn't want to be wrapped in a tape measure!
Don't Worry! We are here to help with that!
Firstly, make sure your hound is stood up. And hopefully they will stay still for you for 1 minute!
You will need a seamstress soft tape measure.
There are 3 main measurements you will need to get.
A: BACK LENGTH
B: CHEST 
C: NECK
BACK LENGTH –
Please ensure your Italian Greyhound, Whippet, Lurcher or Greyhound is stood up straight and still. 
Take your tape measure and run from the base of the neck, along the spine to the top of the tail.
*When measuring for a coat, remember to add an inch to their back length so the coat will cover the top of the bum.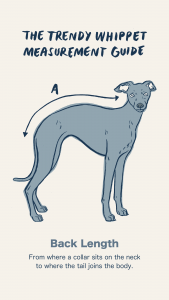 CHEST –
Take your soft tape measure and place all the way around the deepest part of your Sighthound's chest.
This is usually behind the front legs.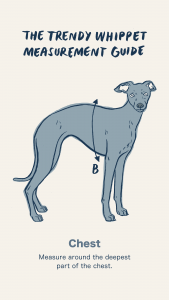 NECK –
Take your soft tape measure and carefully place all the way around the middle of your hounds neck, where a collar would usually sit. Not too high up as this will be too tight and will not be comfortable for your hound. Not too low down as this could be too loose and slip off the head.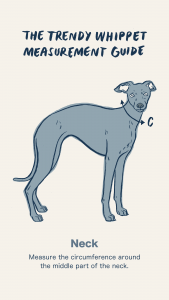 Remember, if you need any help with sizing, please get in contact with me! I'm happy to help.
You can use our contact form here.
EMAIL: [email protected]
Or get in touch on our social media sites below.