WHY DOES MY SIGHTHOUND NEED CLOTHING?
A lot of non-Sighthound owners think getting coats or jumpers for our hounds is silly. Like we're just 'dressing up' our dogs.
But Sighthounds actually need certain clothing.
Sighthounds – Whippets, Greyhounds, some Lurchers, Italian Greyhounds, have very little fur. Their coat is also only one layer of short hair, compared to other breeds which have two layers. This means that other breeds can easily keep warm in the cooler weather. Whereas Sighthounds struggle to warm themselves.
This is where the clothing helps.
Many Sighthounds also hate the rain! So a Waterproof Coat is a staple for your Whippet or Greyhounds wardrobe. Italian Greyhounds also feel the cold more because they are so tiny!
A lot of Sighthounds (including mine), wear a fluffy jumper or pyjamas to bed. This is so the owner can get a good night's sleep! Without having to constantly get up to wrap them back up in their blanket.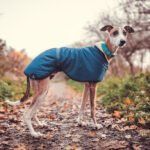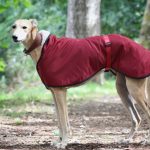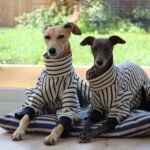 BEST WAYS TO KEEP YOUR SIGHTHOUND WARM
WARM OUTERWEAR:

If it is cold/wet enough for you to wear a long sleeve or coat, then your Sighthound will need one too! Find them a Warm, Thick Coat for walks. Waterproof, Fleece Lined and Cosy yet practical.
See our range of Waterproof Coats HERE



WARM INDOOR WEAR: 

For around the house it is also important to keep your Whippet, Greyhound, Italian Greyhound, Lurcher warm with a Jumper or Pyjamas. They will be more than happy to wear them whilst lounging around the house, or through the night.
See our range of Jumpers/Pyjamas HERE



COSY BEDS

We have recently teamed up with Hunkin Hounds. They do an amazing range of Dog Beds (not just for Sighthounds).

We were lucky enough to test some of them and I can honestly say that my hounds were obsessed with them! Especially their 'On Cloud 9' Fluffy Donut Bed.
See Hunkin Hounds range of Dog Beds HERE


SPECIAL WIDE SIGHTHOUND COLLARS
Sighthounds have very long, thin necks and petite heads, so a lot of normal dog collars are not suitable for them.
These special collars – wide at the front and narrow at the back, help to prevent the dog from backing out of the collar which is a problem for most Sighthound breeds, whether it is a Whippet, Greyhound, Lurcher, Italian Greyhound, Saluki or any other Sighthound.
We offer a wide range of Wide Sighthound Collars in many different colours and sizes to suit all!
See our range of Wide Leather Collars HERE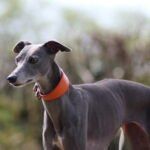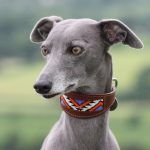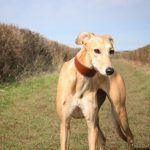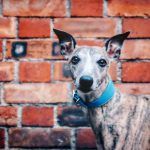 MARTINGALE COLLARS ARE GREAT FOR SOME HOUNDS
A Martingale Collar is specially designed for dogs that have a tendency to back out or wriggle out of traditional collars.

They are considered safer than other collars and are also great for training.
Martingale Collars were designed for Sighthound breeds such as Whippets, Greyhounds, Saluki's, Lurchers etc, due to them having petite heads and thin necks, which means they can easily slip out of normal collars.
Even though other breeds now use Martingale Collars, they continue to be a favourite among the Sighthound owners.
The Martingale Collar is designed so when your hound pulls, it gently and evenly tightens around the dog's neck without being choked, due to the 'fixed loop'.
The collar tightens up to a certain point but will then not tighten anymore which prevents choking and damage to the dog's neck.
Read our blog on Martingale Collars HERE
See our range of Martingale Collars HERE


HARNESSES FOR SIGHTHOUNDS
Again, due to their long thin necks and petite head size, Sighthounds can easily back out of most other Harnesses, however, these are designed so you have full control over your dog when it pulls and wriggles without the worry of them escaping!
Unlike some other Harnesses, ours is padded and fleece-lined in the places that could potentially irritate a Sighthounds skin due to not have enough fur.
These are also a comfortable Y shape fit for the Sighthounds deep chest.
See our range of Harnesses HERE